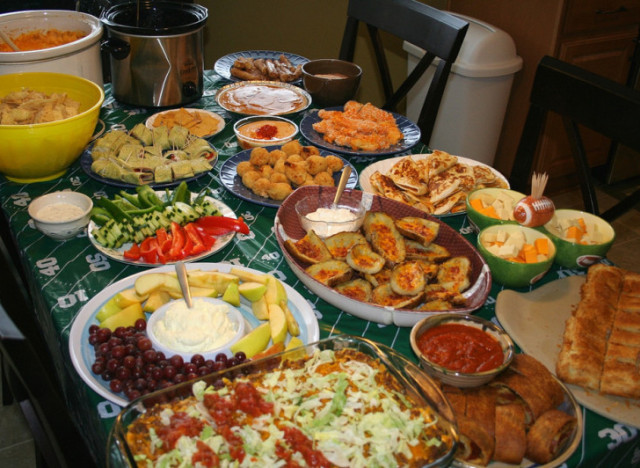 The great things about watching the Big Game are hanging out with friends and family, looking at the Commercials, and watching the Half-Time Show ( I am UBER excited JT is Performing). But for some of us the best thing about the Game is THE FOOD. Now some of us might be satisfied with Pizza and a Soft Drink, but if you really want to pull out your Domestic Goddess Skills, why not create some amazing eats that will make everyone's tummy feel well even if their team loses.
Here are some ideas on How to make a Touchdown with the snacks for The Big Game:
1.) Make a create your own (you fill in the blank)
There are so many options on make your own stations you can do. Popcorn, Nachos, French Fries, Soda, The possibilities are endless. Just make the base food and get as many toppings to go with that food. Here is an example with a sandwich bar in the shape of a stadium.
2.) Jazz it up with Decorations
You can head to any Party Store and get some Football Themed plates, tablecloths, and balloons to set up the room. If you are really creative, you can create and make your own decorations.
Now here are some great recipes for the Big Game(all recipes courtesy of allrecipes.com)
Hummus

Ingredients
1 (15 ounce) can garbanzo beans, drained, liquid reserved

1 clove garlic, crushed

2 teaspoons ground cumin

1/2 teaspoon salt

1 tablespoon olive oil
In a blender or food processor combine garbanzo beans, garlic, cumin, salt and olive oil. 

Blend on low speed, gradually adding reserved bean liquid, until

desired

consistency

is achieved.
3.To spruce it up: Add herbs, seasonings such as Paprika, Spinach,
and even BACON!!!! 

Burger Sliders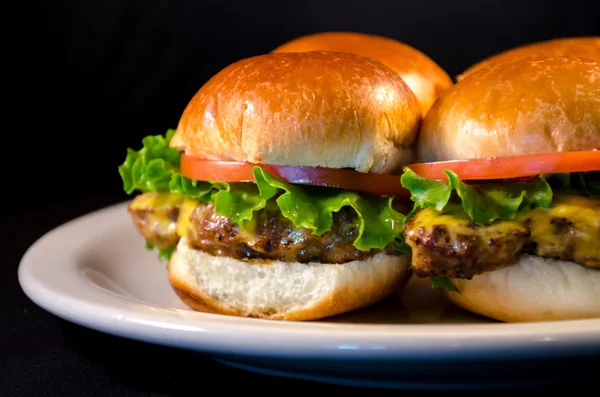 Ingredients
1 (1.25 ounce) envelope onion soup mix
2 cups shredded Cheddar cheese
 

1/2 cup sliced pickles (optional)
Directions
Preheat an oven to 350 degrees F (175 degrees C). Cover a baking sheet with aluminum foil
spray with cooking spray.
Mix together the ground beef and onion soup mix in a large skillet; cook and
stir over medium-high heat until the beef is crumbly, evenly browned, and no longer pink.
Drain and discard any excess grease. Remove from heat.
Stir the mayonnaise and Cheddar cheese into the ground beef mixture.
Lay the bottoms of the dinner rolls on the prepared baking sheet.
Spread the cheese and beef mixture on the bottom half of each roll.
Replace the tops. Cover with another sheet of aluminum foil sprayed with cooking spray.
Bake in the preheated oven until the burgers are heated through and cheese melts,
about 30 minutes. Serve with sliced pickles.
To Spruce It Up: Leave a variety of toppings for you guest to put on their burgers
like different cheeses, condiments, veggies. I think also that the Hummus would be
out of this world on top of the sliders.

Cocktail Wieners

Ingredients
2 (16 ounce) packages cocktail sausages (such as Lit'l Smokies®)
Directions
Stir barbeque sauce and grape jelly together in a slow cooker; add cocktail sausages and stir.
Cook on Low for 2 to 3 hours.
To spruce it up: Stick toothpicks in and enjoy.